Bosch Freestanding Microwave, Series 2, Stainless Steel
Availability: 5 in stock
Report Abuse
Product Description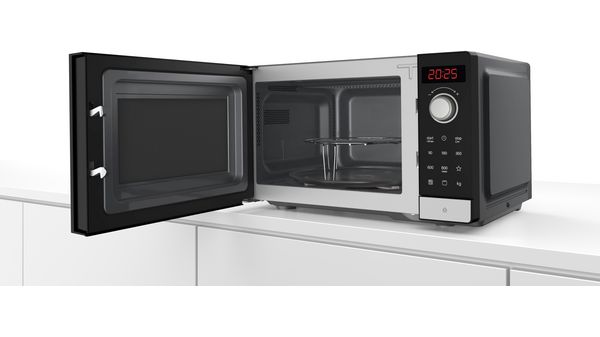 AutoPilot 8 ensures culinary success with eight preset automatic programs, making every dish a perfection. The user-friendly red LED display with knob control simplifies operation, while the stainless steel design adds a touch of sophistication.
Technical Specifications
Main color: Stainless steel
User interface: Red LED display with knob control
Max. microwave power level: 800 W
Microwave power levels: 90, 180, 360, 600, 800 W
Number of heating & combination modes: 1
Heating modes: Microwave, Quartz grill
Added steam: No
Integrated Cleaning system: Hydrolytic
Cavity capacity: 25 l
Safety features: Childproof lock, Door contact switch, Safety switch-off function
Included Accessories:
Dimensions and Weight:
Dimensions: 290 x 495 x 370 mm
Net weight: 15.5 kg
Comfort Features:
Cookm coolstart: No
Fast preheat: No
Pizza setting: No
Heating method hot air: No
Memory for individual settings (1 setting): Yes
Quick Start: Yes
Connectivity:
Enhance your cooking experience with the perfect illumination provided by the LED light, ensuring energy-efficient operation. The appliance also offers convenience with features like memory for individual settings and a quick start option.
Vendor Information
Store Name:

Kemyde

Vendor:

Kemyde
Address:

No ratings found yet!